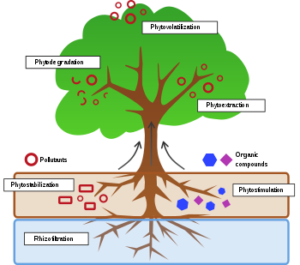 Phytoremediation is a form of bioremediation and applies to all chemical or physical processes that involve plants for degrading or immobilizing contaminants in soil and groundwater. The word (which does not roll off the tongue) actually makes sense. It comes from the Greek word phyto meaning "plant" and the Latin word remedium meaning "restoring balance." When put together, the two words refer to the technologies that use living plants to clean up soil, air, and water contaminated with hazardous chemicals.
Why People Use Phytoremediation
Phytoremediation is a cost-effective plant-based approach of remediation that takes advantage of the ability of plants to concentrate elements and compounds from the environment and to metabolize various molecules in their tissues. It refers to the natural ability of certain plants called hyperaccumulators to bioaccumulate, degrade, or render harmless contaminants in soils, water, or air. Toxic heavy metals and organic pollutants are the major targets for phytoremediation. Knowledge of the physiological and molecular mechanisms of phytoremediation began to emerge in recent years together with biological and engineering strategies designed to optimize and improve phytoremediation. In addition, several field trials confirmed the feasibility of using plants for environmental cleanup.
While the technology is not new, current trends suggest its popularity is growing. The following is a list of six different types of phytoremediation with explanations describing how they work.